Civil Lord YH1041 was built by Samuel Richards of Lowestoft in 1885 for the North Sea Trawling Company (owned by the Burdett-Coutts family).  

According to Stephen Brewster Daniels†, F.S. Leleu bought her in 1888 and sold her in 1889 for £550. She is recorded in Olsen's Almanac 1893 as belonging to Hewett & Co, and she was, again according to Stephen Brewster Daniels, owned by Hewett & Co 1895-1900. The writer's records show that she was bought by Hewett & Co prior to 1890 and sold after 1893 and it is therefore suggested that she was owned by Hewett & Co 1889 – 1900.
Title search information provided by the Port of Lowestoft Research Society U.K. gives a slightly different record of this period;
1887 – Original owner W. Burdett-Coutts, North Sea Trawling Co., Great Yarmouth
1889 – Sold to T&J Leleu Fishing Co., Great Yarmouth
1900 – Sold to Swedish interest, Q. Martinson of Edshultshall, Sweden
This record is, however, very similar and thus it is most likely that Hewett & Co owned her 1889/90-1900.
Where all records agree is that she was sold to Sweden in 1900. It seems most likely that she would have been one of the many sold to Scandinavia by the Short Blue Fleet following the explosion at Barking.
Lowestoft Research records continue the story –
1906 – Sold to Jo Olafasson of Stockholm
1909 – Sold to Q. Skantze of Mollosound, Sweden
1917 – Sold to A.T. Jonasson, Sweden
1951 – Sold Oberg, Sweden
1959 – Sold to Carl Axolbagh, fisherman, name changed to Sunderland
under Danish Registry #S425,
1964 – Sold to Kabagh & Ankl Pederson, Denmark
1964 – Sold to Acne Nichols and Karl Lauterbach
1974 – Sold to Nicols, Henrick, of Pederson, Denmark
1976 – Sold to Robert Ed Lawhead of Los Angeles, CA
1996– Sold to – Mark Belvedere Operated by Maritime Enterprises, Mexico who rerigged her as gaff rigged topsail schooner.
2001– Sold to Sunderland Co. Ltd. 100% share-holder. Registry changed to Kingdom
of Tonga.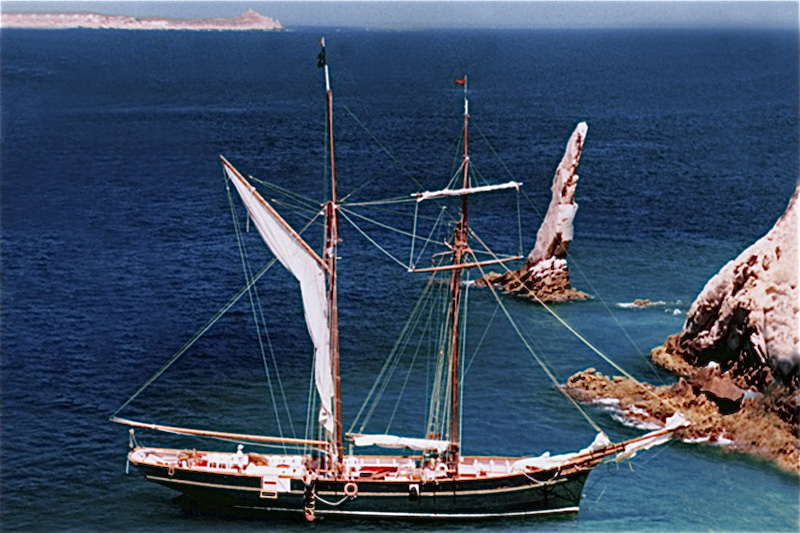 Sunderland anchored off Cabo san Lucas, Mexico
She was operated commercially as a tourist boat until at least 2008 and is now believed to be tied up at Cabo san Lucas, Mexico
† Some Particulars of Yarmouth Fishing Vessels 2002″  Stephen Brewster Daniels"