4 – Using Gorleston as a base
Samuel Hewett was Scrymgeour's second son. The eldest, Fleming,was a banker. He went to Italy, but later returned to England and became manager of the London Joint Stock Bank.


Samuel also had a brother called Thomas who was in some way incapable and lived his life in Barking as a dependent.
Samuel married, on December 11th 1820, Ann Muirhead, the daughter of Robert Muirhead, a Barking Master Mariner and privateer owner. By Ann he had 16 children but many died young. Ann died in 1841 and in 1842 he married Clarissa Hammack Levett, by whom he had a further seven children, all of whom died.
Samuels five eldest sons joined him in the business for varied lengths of time. His first son, Samuel (jnr) joined the business in about 1837 and it was from then known as Hewett and Sons. He was known as "the Salesman", and lived at Tower Hill, London, going to work at Barking every day in an old fashioned gig pulled by a grey horse, returning home at about 6pm. The second son, Robert, was first in 1840 apprenticed to W.G.Beadle as a Waterman, then in 1842 articled as a surveyor to Thomas Harvey of Ilford for five years. During this time he surveyed the principle part of the new Eastern Counties Railway from Ilford to Colchester. In 1847 he joined the family firm.
As there was no need following the introduction of the fleeting system for each smack to return to Barking – or indeed to return ashore at all except for refitting, servicing and crew time off – it was an obvious move to look for facilities nearer the fishing grounds. Lowestoft was suitable, and Ipswich had good boat building and repair facilities. The Prosperous refitted at Ipswich in 1837 (at a cost of £128, the vessel was inspected by Scrymgeour), and the first purpose built cutter, the Saucy Lass, was completed there in 1843.
Even nearer the grounds was Yarmouth, an important herring port and in those days an important cargo port as well. Vessels would arrive and transfer their cargoes to wherries which would then sail up to Norwich. Grain and wool were major cargoes.
Trawling was not introduced to Yarmouth until probably the late 1830's or more likely the early 1840's when Samuel first started to use that port as a repair yard. In the 1833 Fisheries Report Thomas Hammond said "We have no trawlers that go out of Yarmouth; men come off our coast from Torbay." Whether these "Tarbaymen" were trawlers is not made clear, but they had certainly been in the area fishing for herring since the 1760's and quite possibly earlier than that.
The distinct advantage that Yarmouth held over the other ports was the proximity of the Norfolk Broads, and their potential harvest of ice, and indeed it was here that the first Hewett icehouse was built in 1846, and Robert Hewett's first job for the business was to go to Yarmouth and fill this icehouse which he commenced in December of that year. The repair facilities were good as they were there already to service the herring fleet. The railway was to reach Yarmouth in 1847.
The Hewett base was on the opposite side of the river to Yarmouth, at Southtown, Gorleston. The family built their own wharves and repair facilities, and built many smacks there.
Samuel Hewett's other sons, George, Charles and Fleming also went into the family business, although Fleming did not work for his father for long. He is registered as a fish salesman in the 1851 census, and he was part owner of seven smacks in the business between 1848 and 1852. Fleming was a colourful character. He built and fitted out a schooner called the Skyrocket at Barking in which he sailed for Melbourne on the 2nd May 1853 to join the gold rush. Included in the cargo was a complete wooden house, built in sections. He did not join the rush, but supplied the prospectors and made a lot of money. Flemingtown today bears his name. Family reports indicate that he lost the fortune that he had made in Australia. He then returned to England and developed his own fleet of fishing smacks and drifters alongside the Short Blue Fleet at Gorleston where he was known as "Old Flam". He landed his fish ashore at Yarmouth and transported his fish to Billingsgate by rail. He owed his father £1290 in 1871; he reassigned his benefit under the terms of his fathers will to a third party in lieu of a debt in 1873; his fleet had disappeared by 1883 although he retained some warehouses and a coal house, and in 1886 he regained the benefit from his fathers will. He retired to Grouse Farm, Sook's Inlet, Victoria, British Columbia,in about 1888, where he eventually died in 1912.
George Hewett joined the business and remained all his life, following Robert to Hewett & Co, but less is known about him. Charles also joined but changed career in 1864 and became a stockbroker, presumably in partnership, with "Guy and Hewett". He died in 1885.
Barking reached its zenith in about 1851 when the census shows that there were 1370 men and boys engaged in fishing. In 1852 there were altogether 134 trawlers and 46 longline well smacks at the port. A proportion of the Short Blue Fleet were part owned by their skippers, and some owner skippers fished with the fleet. This practise was actively encouraged by Samuel who would sell shares in a boat to a skipper as he earned his money. If a skipper bought his own boat, this was not a loss to the company, in fact quite the opposite. With Samuel jnr selling fish at Billingsgate the bigger the fleet, the greater the supply of fish and hence the greater the revenue from the transport fees and sales commission. Additionally the company ran its own stores and repair facilities and the skipper-owners used them in preference to others. The manager of the company in 1856 was Mr Earl. Not all skipper-owners were successful, however, as they had to be good fishermen because they had no jurisdiction or control over the selling and hence the price of the fish that they caught, and they had to pay transport costs.
This practice of selling shares in the smacks was well received by the crews. There is (or was?) a cup in the Fishmongers Hall in London engraved thus:- "Presented to Mr Samuel Hewett as a token of respect by the Captains and crews of the Short Blue Fleet fishing in the North Sea. 16th October 1850." What this system also contributed to greatly was the rise in popularity of the port of Grimsby. The first smack to land at Grimsby was the Princess of Wurtemberg, a codlining smack from Barking, in 1850. The first trawlers to land there arrived in 1858. The railway arrived in 1859. From then on Grimsby expanded rapidly for several reasons. The railway meant a quick connection to Billingsgate, and the waters at Grimsby were much less polluted than those at Gravesend from where the live cod trade had recently been based. Thus cod chests were used extensively at Grimsby and the fresh fish sent to London by rail in accordance with supply and demand. Grimsby was also nearer the trawling grounds and that fish could also be landed to Billingsgate by rail. Skipper owners set up by Samuel were free to take full advantage of this trade and many smacks moved there from Barking and Yarmouth. The port of Grimsby was primarily developed by the railway company and it was the subsequent rise in importance of this port that substantially contributed to the demise of Barking as a fishing centre.
Although the home port was still Barking, Southtown (Gorleston) became increasingly the operation centre for the Short Blue Fleet. The smacks could be built and refitted there, and the cutters could collect ice from there on their way out to the fleet. Vessels based there had less distance to travel at the beginning and end of each trip, and so lost less time. To quote a Gorleston skipper – "When the great transfer of the Short Blue Fleet was made to Gorleston a large block of premises was built on the western side of the harbour; dry docks, engineering works, shipwrights and carpenters shops, stores, etc. were constructed and a big local industry grew up employing hundreds of tradesmen, such as blacksmiths, painters, riggers, block and spar makers, sailmakers and many others. Gorleston Hospital was established by Harvey Harvey-George for the benefit of the crews."
Many Barking folk moved to the port to follow the fleet. One example is James Tidman (1861-1931) who moved to Gorleston as a lad (his father was a smack skipper) and succeeded George Saville King as ships husband. The ships husband paid all the wages of the seagoing and shoreside staff. This post he held until setting up his own business on the demise of the Short Blue Fleet in 1901/2. He also promoted and was involved in the establishment of Gorleston Hospital alongside Harvey Harvey-George – he became a trustee and was a Governer until his death. (Dr John Bately was the founding doctor at the hospital). Other families that moved from Barking included the Hadcrafts and Dawes.
This did not prevent Robert Hewett from building and repairing vessels at Barking. In 1851 he went into partnership with John Scrimes, a shipwright. There is a memorandum dated June 18th 1851 saying "that Mr Sl Hewett has this day paid us the sum of three hundred pounds on account of new cutter", signed by Robert Hewett for Scrimes and Hewett.
Some fish was sent to Billingsgate from Yarmouth by road, as it had been for many years. Plaice was landed live on Yarmouth beach from the smacks in clinker boats called "cows", and put in horse vans for the London market. Herring was also transported by road. Fish left Yarmouth at 5pm and arrived at Billingsgate at 5am – catching the same market as the railway later did. It took, however, 48 horses and 12 changes to make the journey, and only limited quantities could be carried. Some 2000 tons per year were carried in this fashion, but Hewetts continued to send fish by sea as it was stiil at that time the most profitable method.
The railways were the new mode of transport in this era. From the beginning, with the Stockton to Darlington railway of 1825, the increase in the network was rapid. From 25 miles of track in 1825 to 2,236 in 1844, 6,635 in 1850, and 10,410 in 1860, the figure in 1870 was some 15,310 miles. The railway reached Yarmouth in 1847, the route from London taking in Ipswich (Eastern Counties Rly), Stowmarket, and Norwich (Ipswich and Norwich Rly) finally reaching Yarmouth via Reedham (Norfolk Rly).
Initially this had little effect on the transport of fresh fish because the train was expensive and the fish was carried in uninsulated carriages and handled excessively, thus arriving in poor condition. Cured herrings were the only fish carried in quantity. Conditions did improve, however, and by the 1860's the Hewett cutters were landing at Yarmouth and sending fish to London by rail. Thanks to the icehouses and boatyards at Gorleston there was no need for the vessels to return to Barking. During the first General Meeting of Hewett and Co in May 1865 while discussing the proposed steam carriers, Robert said that they had formerly carried all their fish by rail. The rail was cheaper and was 12 hours quicker, but sometimes a cutter would arrive just after the fish train had left which meant a further day's delay. The fish also had to be handled six times; from the smack to the cutter, from the cutter to the beachboat, to the beach-van, to the van taking the fish to the station, on to the train, off the train and into Billingsgate. The fish was consequently injured and plundered. Fish sent by sea arrived in much better condition.
In the sixties the average number of men and boys employed was about 500. In September 1861, the family owned a total of 71 vessels, including the cutters and a tug. The firm owned 5 ships and the tug. Samuel snr owned 39, Samuel jnr 5, Robert 8, George 4 and Charles 4 vessels. In addition there were a further 5 cutters of which Samuel snr, Samuel jnr and Robert each held a third share; these were the Don, Mercer, Vixen, Columbine and Pet. Samuel snr also had an interest in "Mr Shank's vessels" and "Mr Still's vessels". Samuel was concerned about Shanks' vessels as he noted in a letter that their condition was very poor with a considerable amount of rot and that "I do not consider them to be seaworthy". A trawler cost on average £11 per week to run. A longline codsmack cost £16 per week to run but the higher prices that the catch fetched offset this difference. The family also started a subsiduary business called "The Dagenham Fish Manure Co", which appears to have supplied fertilizer to customers all over the country and was operating in 1861.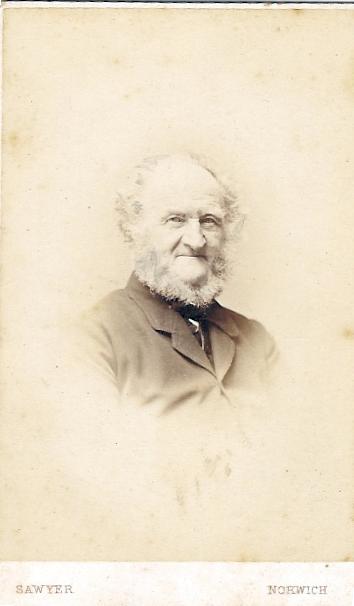 Samuel Hewett  1797 – 1871
Samuel snr retired on August 2nd 1862 and the business became Hewett Brothers, and traded under this name until the formation of Hewett & Co Ltd in 1864 under the Limited Liability Act of 1862. A paper dated August 4th 1862 values the changeover. The vessels were transferred to the brothers from Samuel senior for a valuation of £16,830, and Samuel snr was also owed some £4802.10.8 in cash by the business making a total of £21,632.10.8. The brothers owed their father a considerable sum so far as can be ascertained; old Sam still held mortgages on many of the vessels that were not previously co-owned by brothers and father.